Alternative Replacement Cross Reference for Murata High Voltage Ceramic Capacitor Lead Type DEA/DEB/DEC/DEF/DEH/DEJ/DHR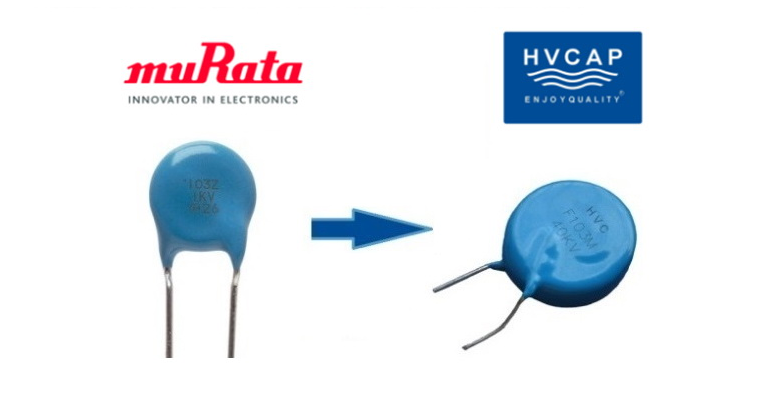 HVC Capacitor announced they have launched special custom product range as replacement of Murata's high voltage ceramic capacitors in lead type and Screw Terminal (doorknob) Type, concerning part number from DHS / DHK / DHR / DHC, voltage from 2KV,3KV,6KV to 10kv,12kv,15kv, 20kv to 50kv.
Murata released "Product Withdrawal Notice" in mid of 2018, they stop produce ceramic disc capacitors and doorknob capacitor in full range. Murata's official reason: high voltage machine market is decreasing and they do not earn money from that product range. In fact, we know Murata not only cut the high voltage ceramic capacitor but also quit the general-purpose MLCC market in 2017. The basic raw ceramic material for MLCC and hv ceramic disc caps are the same SrTiO3 and BaTiO2 they just invested these resources to more profitable market -Automobile MLCC business.
Murata is the world's No.1 market share of MLCC, and also the world No.1 market share of high voltage ceramic capacitors, a major market in West Europe, USA and most of the Japanese market. HVC understands that Murata's existing customers are urgently seeking for fine replacement hv capacitors with good performance and not changing PCB board. Also, they need component upgrade support to design their new models.
HVC Capacitor is a good solution for Murata's product replacement /Alternative/ Cross Reference HVC produces hv ceramic capacitor from 1kv to 100kv, another top brand selling publicly for 100kv item only AVX. HVC with a successful case on replacing Vishay / Murata / AVX and TDK's ceramic disc and doorknob capacitor. And most of HVC's end customers work in the fields of X-ray, CT, MRI, NDT, plasma generator, Laser equipment, Tesla Coil, Marx Generator and Power Electrical equipment, even Military Industry, that is same to Murata's application market.

The following advantages make HVC a good alternative:
1. HVC is strong in N4700 class ceramic dielectric, which is commonly used in applications with required high voltage withstand, low dissipation, high-frequency performance. Murata used "ZM" type and Vishay marking is "T3M" same to N4700 class. HVC also has patented its own version of N4700 ceramic dielectric.
2. HVC usually provides technical consultancy and even circuit diagram analysis to ensure right component selection. This requires strong electronic component knowledge and application experience. Selecting the right component is critical for a project's success. This is also called "design-in" service.
3. HVC offers a high percentage of custom production according to customer's PCB space, custom product diameter, lead spacing, and other details.
4. In most of cases, using HVC as a replacement means cost down and also shorten production lead time. Low voltage model 1kv to 6kv lead time in 3 to 5 days, common model 10kv to 30kv in 2 weeks, custom production in 3 weeks, doorknob type common model in 4 weeks, custom spec doorknob model in 6 to 8 weeks.
5. HVC Capacitor has established an international sales network, with authorized distributors in Germany, France, UK, USA, Italy, Russia, India, Korea, Japan, Malaysia, Singapore. Local distributors offer logistic, stock buffering, local customer support, business tours, payment credit and other value-added services. Customers can buy HVC's components just like buying from domestic suppliers.
6. HVC assists customers with new project development or product upgrade, which always means higher voltage and higher frequency capacitors requirements.
Following frequently asked Murata's ceramic disc type models vs HVC replacement models.
Most Inquiry Alternative Items, mail to sales@hv-caps.com for HVC's Part Number and Datasheet, quote, sample.


DHR4E4C221K2BB 220 pF 15 kVDC ZM Murata Eol (end of life) item ----HVC item:HVC-15KV-DL11-F9.5-221K
DHRB34C101M2BB 100 pF 15 kVDC B Murata Eol (end of life) item ----HVC item:HVC-15KV-DP07-F9.5-101K
DHR4E4B101K2BB 100 pF 12 kVDC ZM Murata Eol (end of life) item ----HVC item:HVC-15KV-DL07-F9.5-101K

DHR4E4C471K2BB 470 pF 15 kVDC ZM Murata Eol (end of life) item ----HVC item:HVC-15KV-DL14-F9.5-471K
DHRB34C102M2FB 1000 pF 15 kVDC B Murata Eol (end of life) item ----HVC item:HVC-15KV-DP18-F12.5-102K
DHR4E4C102K2FB 1000 pF 15 kVDC ZM Murata Eol (end of life) item ----HVC item:HVC-15KV-DL18-F12.5-102K
DHRB34A102M2BB 1000 pF 10 kVDC B Murata Eol (end of life) item ----HVC item:HVC-10KV-DP15-F10-102K
DHR4E4A102K2BB 1000 pF 10 kVDC ZM Murata Eol (end of life) item ----HVC item:HVC-10KV-DL15-F10-102K
DHRB34B102K2BB----HVC item:HVC-12KV-DL16-F9.5-102K (12KV 102 N4700)
DHRB34C471M3FB----HVC item:HVC-15KV-DP13-F9.5-471K (15KV 471 Y5P)
DHR4E4B471K2BB----HVC item:HVC-12KV-DL14-F9.5-471K (12KV 471 N4700)
DHR4E4C101K2BB 100 pF 15 kVDC ZM Murata Eol (end of life) item
DHRB34A101M2BB 100 pF 10 kVDC B Murata Eol (end of life) item
DHRB34A151M2BB 150 pF 10 kVDC B Murata Eol (end of life) item
DHRB44B102M1JBC03 1000 pF 12 kVDC Y5P Murata Eol (end of life) item
DHRB34C151M2BB 150 pF 15 kVDC B Murata Eol (end of life) item
DHR4E4B102K2BB 1000 pF 12 kVDC ZM Murata Eol (end of life) item
DHR4E4A101K2BB 100 pF 10 kVDC ZM Murata Eol (end of life) item
DHRB34B471M2BB 470 pF 12 kVDC B Murata Eol (end of life) item
DHRB34A221M2BB 220 pF 10 kVDC B Murata Eol (end of life) item
DHR4E4A151K2BB 150 pF 10 kVDC ZM Murata Eol (end of life) item
DHR4E4C151K2BB 150 pF 15 kVDC ZM Murata Eol (end of life) item
DHRB34B101M2BB 100 pF 12 kVDC B Murata Eol (end of life) item
DHR4E4B151K2BB 150 pF 12 kVDC ZM Murata Eol (end of life) item
DHR4E4B221K2BB 220 pF 12 kVDC ZM Murata Eol (end of life) item
DHR4E4A331K2BB 330 pF 10 kVDC ZM Murata Eol (end of life) item
DHRB34A331M2BB 330 pF 10 kVDC B Murata Eol (end of life) item
DHRB34A681M2BB 680 pF 10 kVDC B Murata Eol (end of life) item
DHR4E4B681K2BB 680 pF 12 kVDC ZM Murata Eol (end of life) item
DHR4E4A221K2BB 220 pF 10 kVDC ZM Murata Eol (end of life) item
DHRB34B102M2BB 1000 pF 12 kVDC B Murata Eol (end of life) item
DHRB34C331M2BB 330 pF 15 kVDC B Murata Eol (end of life) item
DHRB34A471M2BB 470 pF 10 kVDC B Murata Eol (end of life) item
DHRB34C681M2BB 680 pF 15 kVDC B Murata Eol (end of life) item
DHR4E4C331K2BB 330 pF 15 kVDC ZM Murata Eol (end of life) item
DHR4E4C681K2BB 680 pF 15 kVDC ZM Murata Eol (end of life) item

DEA1X3F151JN3A 150 pF 3.15 kVDC SL 5 % Murata Eol (end of life) item
DEA1X3F151JB3B 150 pF 3.15 kVDC SL 5 % Murata Eol (end of life) item
DEA1X3D181JN2A 180 pF 2 kVDC SL 5 % Murata Eol (end of life) item
DEA1X3F820JB3B 82 pF 3.15 kVDC SL 5 % Murata Eol (end of life) item
DEA1X3F180JDDB 18 pF 3.15 kVDC SL 5 % Murata Eol (end of life) item
DEA1X3F181JN3A 180 pF 3.15 kVDC SL 5 % Murata Eol (end of life) item
DEA1X3F121JB3B 120 pF 3.15 kVDC SL 5 % Murata Eol (end of life) item
DEA1X3F330JD3B 33 pF 3.15 kVDC SL 5 % Murata Eol (end of life) item
DEA1X3F120JDDB 12 pF 3.15 kVDC SL 5 % Murata Eol (end of life) item
DEA1X3D221JB2B 220 pF 2 kVDC SL 5 % Murata Eol (end of life) item
DEA1X3D270JP2A 27 pF 2 kVDC SL 5 % Murata Eol (end of life) item
DEA1X3D391JB3B 390 pF 2 kVDC SL 5 % Murata Eol (end of life) item
DEA1X3F221JB3B 220 pF 3.15 kVDC SL 5 % Murata Eol (end of life) item
DEA1X3D391JN3A 390 pF 2 kVDC SL 5 % Murata Eol (end of life) item
DEA1X3D471JB3B 470 pF 2 kVDC SL 5 % Murata Eol (end of life) item
DEA1X3D471JN7A 470 pF 2 kVDC SL 5 % Murata Eol (end of life) item
DEBB33F151KP3A 150 pF 3.15 kVDC B Murata Eol (end of life) item



| | | | |
| --- | --- | --- | --- |
| DEA1X3D100JC1B | DHR4E4B471MUCBA31 | DEC1X3J270JC4B | DHRB34B151K2BB |
| DEA1X3D100JP2A | DHR4E4B681K2BB | DEC1X3J330JA3B | DHRB34B151M2BB |
| DEA1X3D101JA2B | DHR4E4C101K2BB | DEC1X3J330JC4B | DHRB34B221K2BB |
| DEA1X3D101JN2A | DHR4E4C101M1FB | DEC1X3J390JA3B | DHRB34B221K2BBD06 |
| DEA1X3D120JC1B | DHR4E4C101M1FBC02 | DEC1X3J470JA3B | DHRB34B221K2BBD07 |
| DEA1X3D121JA2B | DHR4E4C102K2FB | DEC1X3J470JC4B | DHRB34B221K3AB |
| DEA1X3D150JC1B | DHR4E4C102K2JB | DEC1X3J560JC4B | DHRB34B221K3ABC01 |
| DEA1X3D151JA2B | DHR4E4C102KF1B | DEC1X3J680JC4B | DHRB34B221M2BB |
| DEA1X3D180JC1B | DHR4E4C151K2BB | DEC1X3J820JC4B | DHRB34B221M2BBD07 |
| DEA1X3D180JD1B | DHR4E4C151M1FB | DECB33J101KC4B | DHRB34B221M3AB |
| DEA1X3D180JP2A | DHR4E4C151M1FBC02 | DECB33J102KC4B | DHRB34B221M3ABC01 |
| DEA1X3D181JA2B | DHR4E4C221K2BB | DECB33J151KC4B | DHRB34B331K2BB |
| DEA1X3D220JC1B | DHR4E4C221K2BBB02 | DECB33J221KC4B | DHRB34B331K2BBD06 |
| DEA1X3D220JD1B | DHR4E4C221KVBBB02 | DECB33J331KC4B | DHRB34B331K2BBD07 |
| DEA1X3D220JP2A | DHR4E4C221M1CBA31 | DECB33J471KC4B | DHRB34B331M2BB |
| DEA1X3D221JA2B | DHR4E4C221M1FB | DECB33J681KC4B | DHRB34B331M2BBD06 |
| DEA1X3D221JN2A | DHR4E4C221M1FBC02 | DECE33J102ZC4B | DHRB34B331M2BBD07 |
| DEA1X3D270JC1B | DHR4E4C221MVCBA31 | DECE33J222ZC4B | DHRB34B471K2BB |
| DEA1X3D270JD1B | DHR4E4C331K2BB | DEF1XLH100JA3B | DHRB34B471K2BBD07 |
| DEA1X3D271JA2B | DHR4E4C331M1FB | DEF1XLH120JA3B | DHRB34B471K6BB |
| DEA1X3D271JB2B | DHR4E4C331M1FBC02 | DEF1XLH180JJ3B | DHRB34B471M2BB |
| DEA1X3D271JN2A | DHR4E4C390M1FBC01 | DEF1XLH220JJ3B | DHRB34B471M2BBB02 |
| DEA1X3D330JC1B | DHR4E4C391M1FB | DEF1XLH330JA3B | DHRB34B471M6BB |
| DEA1X3D330JP2A | DHR4E4C391MVCBA31 | DEF1XLH330JJ3B | DHRB34B500M1FB |
| DEA1X3D331JA3B | DHR4E4C471K2BB | DEF1XLH330JN3A | DHRB34B681K2BB |
| DEA1X3D331JN3A | DHR4E4C471M1FB | DEF1XLH470JA3B | DHRB34B681M2BB |
| DEA1X3D390JC1B | DHR4E4C471M1FBC02 | DEF1XLH470JJ3B | DHRB34B751K1CBA31 |
| DEA1X3D390JP2A | DHR4E4C511M1FB | DEF2CLH020CA3B | DHRB34C101K1FB |
| DEA1X3D391JA3B | DHR4E4C511MF1B | DEF2CLH030CJ3B | DHRB34C101K2BB |
| DEA1X3D470JA2B | DHR4E4C680K1FB | DEF2CLH040CN3A | DHRB34C101K2BBD07 |
| DEA1X3D470JN2A | DHR4E4C681J2BB | DEF2CLH050DA3B | DHRB34C101M1FB |
| DEA1X3D471JA3B | DHR4E4C681J2BBC11 | DEF2CLH050DJ3B | DHRB34C101M2BB |
| DEA1X3D560JA2B | DHR4E4C681K1FBC01 | DEF2CLH070DA3B | DHRB34C101MF3B |
| DEA1X3D560JN2A | DHR4E4C681K2BB | DEF2CLH070DN3A | DHRB34C101MPBB |
| DEA1X3D561JA3B | DHR4E4C681M1FB | DEF2CLH080DA3B | DHRB34C102K1FB |
| DEA1X3D680JA2B | DHR4E4C681M1FBC02 | DEF2CLH090DJ3B | DHRB34C102K2FB |
| DEA1X3D820JA2B | DHR4E4C751M1FB | DEF2CLH090DN3A | DHRB34C102M1JB |
| DEA1X3F100JCDB | DHR4E4C751M1FBA31 | DEHR33D102KA3B | DHRB34C102M2FB |
| DEA1X3F100JP3A | DHR4E4C751M1FBC01 | DEHR33D102KB3B | DHRB34C102M2FBB05 |
| DEA1X3F101JA3B | DHR4E4C751M1FBC09 | DEHR33D102KN3A | DHRB34C102M2FBC01 |
| DEA1X3F101JB3B | DHR4E4C751MF1BD02 | DEHR33D122KA3B | DHRB34C102M4FB |
| DEA1X3F120JCDB | DHR4E4C751MFWBD02 | DEHR33D122KN3A | DHRB34C102MF1B |
| DEA1X3F121JA3B | DHR4E4C820M1CB | DEHR33D152KA3B | DHRB34C102X2FBB06 |
| DEA1X3F150JCDB | DHR4E4C820M1FB | DEHR33D152KN3A | DHRB34C122K2FB |
| DEA1X3F150JP3A | DHR4E4C820M1FBC02 | DEHR33D182KA3B | DHRB34C122M2FB |
| DEA1X3F151JA3B | DHR4E4C911K3JBD02 | DEHR33D221KC3B | DHRB34C151K2BB |
| DEA1X3F180JCDB | DHR4E4D101K4BB | DEHR33D221KP3A | DHRB34C151M1FB |
| DEA1X3F180JP3A | DHR4E4D221K4BB | DEHR33D222KA3B | DHRB34C151M2BB |
| DEA1X3F181JA3B | DHR4EAB531MWFBA31 | DEHR33D222KN7A | DHRB34C221K1GBD03 |
| DEA1X3F220JCDB | DHR4EAR820K1FB | DEHR33D271KC3B | DHRB34C221K2BB |
| DEA1X3F220JDDB | DHR4EJ3331K1FB | DEHR33D271KP3A | DHRB34C221M1EB |
| DEA1X3F220JP3A | DHR4K4C171J1FB | DEHR33D272KA3B | DHRB34C221M1FB |
| DEA1X3F221JA3B | DHR4K4C221K1FB | DEHR33D331KA3B | DHRB34C221M2BB |
| DEA1X3F221JN3A | DHR4K4C331K1FB | DEHR33D331KN3A | DHRB34C271K1FB |
| DEA1X3F270JC3B | DHR4K4C391K1FBA11 | DEHR33D332KA4B | DHRB34C331K2BB |
| DEA1X3F270JP3A | DHR4K4C391KF1BA11 | DEHR33D332KB4B | DHRB34C331M1EB |
| DEA1X3F271JA3B | DHR4R4B102M1FBA31 | DEHR33D391KA3B | DHRB34C331M1FB |
| DEA1X3F330JC3B | DHRB34A101K1AB | DEHR33D392KA4B | DHRB34C331M1FBA13 |
| DEA1X3F330JP3A | DHRB34A101K2BB | DEHR33D471KA3B | DHRB34C331M2BB |
| DEA1X3F331JA3B | DHRB34A101K2BBB04 | DEHR33D471KN3A | DHRB34C331M3DB |
| DEA1X3F390JC3B | DHRB34A101K2BBD07 | DEHR33D472KA4B | DHRB34C331M3DBA15 |
| DEA1X3F391JA3B | DHRB34A101KTKT | DEHR33D472KB4B | DHRB34C331M3EBA15 |
| DEA1X3F470JC3B | DHRB34A101M1CB | DEHR33D561KA3B | DHRB34C471K2BB |
| DEA1X3F470JP3A | DHRB34A101M1CBA41 | DEHR33D561KN3A | DHRB34C471M1FBB05 |
| DEA1X3F560JC3B | DHRB34A101M2BB | DEHR33D681KA3B | DHRB34C471M2BB |
| DEA1X3F680JA3B | DHRB34A101M2BBA31 | DEHR33D681KB3B | DHRB34C471M3EB |
| DEA1X3F820JA3B | DHRB34A101M2BBB03 | DEHR33D681KN3A | DHRB34C471M3FB |
| DEA1X3F820JN3A | DHRB34A101M2CB | DEHR33D821KA3B | DHRB34C471M3FBC01 |
| DEBB33D101KC1B | DHRB34A101MTKT | DEHR33F102KA3B | DHRB34C471M9FB |
| DEBB33D101KD1B | DHRB34A101PA8B | DEHR33F102KB3B | DHRB34C471MF1B |
| DEBB33D101KP2A | DHRB34A101PA8BC01 | DEHR33F102KN3A | DHRB34C511K1FB |
| DEBB33D102KA2B | DHRB34A102K2BB | DEHR33F122KA3B | DHRB34C561M1FB |
| DEBB33D102KB2B | DHRB34A102K2BBB04 | DEHR33F122KN7A | DHRB34C681K2BB |
| DEBB33D102KN2A | DHRB34A102K2HB | DEHR33F151KC3B | DHRB34C681M2BB |
| DEBB33D151KC1B | DHRB34A102KUBBA31 | DEHR33F151KP3A | DHRB34C681M3FB |
| DEBB33D152KA2B | DHRB34A102KUBBD07 | DEHR33F152KA3B | DHRB34C681MF1B |
| DEBB33D152KN2A | DHRB34A102M1FB | DEHR33F152KN7A | DHRB34D471K1JB |
| DEBB33D221KC1B | DHRB34A102M2BB | DEHR33F181KC3B | DHRB3AB820K3DBD05 |
| DEBB33D221KP2A | DHRB34A102M2BBB03 | DEHR33F182KA3B | DHRB44B102M1JBC03 |
| DEBB33D222KA2B | DHRB34A102M2HB | DEHR33F221KC3B | DHRB54A101M1CB |
| DEBB33D222KB2B | DHRB34A102MF1B | DEHR33F222KA3B | DHRB54A102M1FB |
| DEBB33D222KN2A | DHRB34A122K2FB | DEHR33F222KN7A | DHRB54A102M1JBC04 |
| DEBB33D331KC1B | DHRB34A122M2FB | DEHR33F271KC3B | DHRB54A102MF1B |
| DEBB33D331KP2A | DHRB34A151K2BB | DEHR33F272KA4B | DHRB54A102MZFB |
| DEBB33D332KA3B | DHRB34A151K2BBB04 | DEHR33F331KA3B | DHRB54A151M1CB |
| DEBB33D471KA2B | DHRB34A151M1CB | DEHR33F331KN3A | DHRB54A221M1CB |
| DEBB33D471KN2A | DHRB34A151M1FB | DEHR33F391KA3B | DHRB54A331M1CB |
| DEBB33D472KA3B | DHRB34A151M1NBD02 | DEHR33F471KA3B | DHRB54A470M1CB |
| DEBB33D472KA4B | DHRB34A151M2BB | DEHR33F471KN3A | DHRB54A471M1CB |
| DEBB33D472KB3B | DHRB34A151M2BBB03 | DEHR33F561KA3B | DHRB54A560M1CB |
| DEBB33D472KN7A | DHRB34A221K1CB | DEHR33F561KN3A | DHRB54A680M1CB |
| DEBB33D681KA2B | DHRB34A221K2BB | DEHR33F681KA3B | DHRB54A681M1CB |
| DEBB33D681KN2A | DHRB34A221K2BBB04 | DEHR33F821KA3B | DHRB54A750M1CB |
| DEBB33F101KCDB | DHRB34A221K6BB | DEHR33F821KN3A | DHRB54A751K1JBC04 |
| DEBB33F102KA3B | DHRB34A221KPBB | DEJE3E2102ZC3B | DHRB54A751M1JBC04 |
| DEBB33F102KB3B | DHRB34A221KQBB | DEJE3E2102ZN2A | DHRB54A820M1CB |
| DEBB33F102KN3A | DHRB34A221M1CB | DEJE3E2222ZA3B | DHRB54B101K1JB |
| DEBB33F151KCDB | DHRB34A221M1JB | DEJE3E2222ZN2A | DHRB54B101K3AB |
| DEBB33F152KA3B | DHRB34A221M1KB | DEJE3E2332ZA3B | DHRB54B101KA3B |
| DEBB33F221KCDB | DHRB34A221M1NB | DEJE3E2472ZA3B | DHRB54B101KA3BA12 |
| DEBB33F221KDDB | DHRB34A221M1NBA31 | DEJF3E2103ZA3B | DHRB54B101KZJB |
| DEBB33F221KP3A | DHRB34A221M2BB | DEJF3E2103ZB3B | DHRB54B102M1JBD04 |
| DEBB33F222KA3B | DHRB34A221M2BBA31 | DEJF3E2472ZA3B | DHRB54B102M4JBC08 |
| DEBB33F222KN3A | DHRB34A221M2BBB03 | DEJF3E2472ZB3B | DHRB54B501M1QBD04 |
| DEBB33F331KC3B | DHRB34A221M6BB | DEJF3E2472ZN2A | DHRB54B501MC1BC04 |
| DEBB33F331KP3A | DHRB34A251M2BB | DHR1X4B220K1CB | DHRB54B750M1CB |
| DEBB33F332KA3B | DHRB34A331K2BB | DHR1X4B220K2JB | DHRB54B751M1JBC04 |
| DEBB33F471KA3B | DHRB34A331K2BBB04 | DHR1X4C390K1FB | DHRB54C101K1FB |
| DEBB33F471KC3B | DHRB34A331M1CB | DHR1X4C390KF1B | DHRB54C101M1FB |
| DEBB33F471KD3B | DHRB34A331M1QBC07 | DHR1X4D100K1EB | DHRB54C101M3DB |
| DEBB33F471KN3A | DHRB34A331M2BB | DHR1X4D200K1HB | DHRB54C101M3DBC01 |
| DEBB33F471KP3A | DHRB34A331M2BBB03 | DHR1X4D200K1HBC01 | DHRB54C102K1FB |
| DEBB33F681KA3B | DHRB34A431M1CB | DHR1XJ3100F1FB | DHRB54C102M1FB |
| DEBB33F681KB3B | DHRB34A471K2BB | DHR1XJ3220K1FB | DHRB54C102M1JBA11 |
| DEBE33D102ZA2B | DHRB34A471K2BBB01 | DHR1XTA200K2HB | DHRB54C102M1JBA14 |
| DEBE33D102ZN2A | DHRB34A471K2BBB04 | DHR3E4B301M1CB | DHRB54C102M1JBC04 |
| DEBE33D103ZA3B | DHRB34A471K2BBD07 | DHR3E4C471MC1BA31 | DHRB54C102M6FBA31 |
| DEBE33D103ZB3B | DHRB34A471K6BB | DHR3U4D100K4BB | DHRB54C102MF1B |
| DEBE33D103ZN7A | DHRB34A471M1CB | DHR3U4D101K4BB | DHRB54C102MF7B |
| DEBE33D222ZA2B | DHRB34A471M1CBA13 | DHR4E3J222K1AB | DHRB54C151M1FB |
| DEBE33D472ZA2B | DHRB34A471M2BB | DHR4E4A101K2BB | DHRB54C221M1FB |
| DEBE33D472ZN2A | DHRB34A471M2BBB03 | DHR4E4A101K2BBA32 | DHRB54C331M1FB |
| DEBE33F102ZC3B | DHRB34A471M6BB | DHR4E4A101K2BBA33 | DHRB54C471M1FB |
| DEBE33F102ZP3A | DHRB34A501K2BB | DHR4E4A101M1PB | DHRB54C501M1JBB05 |
| DEBE33F222ZA3B | DHRB34A680K1AB | DHR4E4A102K2BB | DHRB54C681M1FB |
| DEBE33F222ZN3A | DHRB34A680K1CB | DHR4E4A102K2HB | DHRB54C751M1FBC01 |
| DEBE33F472ZA3B | DHRB34A681K2BB | DHR4E4A102M1FB | DHRB54C751M1JBC01 |
| DEBE33F472ZB3B | DHRB34A681K2BBB04 | DHR4E4A102M1FBA01 | DHRB54C820M1FB |
| DEBE33F472ZN3A | DHRB34A681M1CB | DHR4E4A102M1FBC02 | DHRB5AA501M1FB |
| DEBF33D102ZC1B | DHRB34A681M2BB | DHR4E4A102M1JB | DHRB5AB102M1JB |
| DEBF33D102ZD1B | DHRB34A681M2BBB03 | DHR4E4A151K2BB | DHRB5AD101M1CB |
| DEBF33D102ZP2A | DHRB34B101K1CB | DHR4E4A221K2BB | DHRB5AD101M3ABC01 |
| DEBF33D103ZA3B | DHRB34B101K1CBA41 | DHR4E4A221K2BBA34 | DHRB5AD102M1CB |
| DEBF33D103ZB3B | DHRB34B101K1NBA31 | DHR4E4A221M1CB | DHRB5AD102M1CBA01 |
| DEBF33D103ZN3A | DHRB34B101K2BB | DHR4E4A221M1CBA01 | DHRB5AD151M1CB |
| DEBF33D222ZA2B | DHRB34B101K2BBD06 | DHR4E4A331K2BB | DHRB5AD221M1CB |
| DEBF33D222ZB2B | DHRB34B101K2BBD07 | DHR4E4A331M1CB | DHRB5AD221M1KBC06 |
| DEBF33D222ZN2A | DHRB34B101M1CB | DHR4E4A471K2BB | DHRB5AD221M3ABC01 |
| DEBF33D472ZA2B | DHRB34B101M1NB | DHR4E4A471M1CB | DHRB5AD221M3ABC06 |
| DEBF33D472ZB2B | DHRB34B101M1NBA31 | DHR4E4A471M1CBA01 | DHRB5AD331M1CB |
| DEBF33D472ZN2A | DHRB34B101M2BB | DHR4E4A681K2BB | DHRB5AD331M1KBD01 |
| DEC1X3J050DC4BMS1 | DHRB34B101M2BBD07 | DHR4E4A681M1CB | DHRB5AD471M1CB |
| DEC1X3J100JA3BMS1 | DHRB34B101MA8B | DHR4E4B101K2BB | DHRB5AD471M1CBA31 |
| DEC1X3J100JC4BMS1 | DHRB34B101MA8BC01 | DHR4E4B102K2BB | DHRB5AD681M1CB |
| DEC1X3J101JC4B | DHRB34B102K1FBA31 | DHR4E4B151K2BB | DHRB5AD681M5CBA31 |
| DEC1X3J120JC4B | DHRB34B102K2BB | DHR4E4B151K2BBB02 | DHRC54C222K2FBB07 |
| DEC1X3J121JC4B | DHRB34B102K2BBD07 | DHR4E4B151K5BBB02 | DHRC54C262K2FBB07 |
| DEC1X3J150JC4B | DHRB34B102K6BB | DHR4E4B151M1CB | DHRE4AD102Z4QB |
| DEC1X3J151JC4B | DHRB34B102M2BB | DHR4E4B151M5CBA31 | DHRE4AD152Z4QB |
| DEC1X3J180JC4B | DHRB34B102M6BB | DHR4E4B221K2BB | DHRE4AD222M4QB |
| DEC1X3J220JC4B | DHRB34B122K2FB | DHR4E4B331K2BB | DHRE4AD222Z4QB |
| DEC1X3J270JA3B | DHRB34B122M2FB | DHR4E4B331K2BBB02 | DHRE4AD471Z4QB |
| DHR4E4B471K2BB | DHRR3AQ171K1CB | DHR4E4B371MVCBA31 | DHRE4AD681Z4QB |
| DHRB34A101M2LBA31 | DHRR3AQ171KC1B | | |